Sublimation is one of the digital printing techniques most commonly used in the textile industry, but thanks to the advancement of technology, their use has become popular among small businesses and also between male and female entrepreneurs. Anyway, the question must go beyond what is sublimation.
For some time now, sublimation has marked a before and after in the personalization of objects and, especially, in clothing and accessories. In addition to creating personalized clothing in an extremely simple way, with this type of plotter, you can be creative and completely transform almost any object. If you are still not sure what a plotter is, you can consult this article in which we explain it in great detail, with its utilities, types, and differences.
The plotters Sublimation allows the transfer of the design, previously done with some professional editing program, to shirts, masks, cups, covers for mobile, backpacks, and almost any product you can imagine. Although historically it has been a common production process in large factories, brands that manufacture large format printers, especially Epson, have wanted to make them more affordable.
How to sublimate?
Generally, and to simplify this explanation, the sublimation process is usually divided into three more or less differentiated parts. First I will give you a brief description of each phase and then, in the following sections, I will develop it in more detail depending on the professional scale to which we refer. As you will understand, it is not the same that an artisan begins to sublimate t-shirts to sell in a market, that a giant of the textile sector is going to launch a new line of personalized cloth bags. In other words, the size of the production and the type of product to be sublimated are the main factors that will influence when defining the production process.
Prepress: image creation, editing and treatment
To begin, we must point out that there is no type of printing without pre-printing since it is a fundamental process and of a certain complexity. In other words, this process is not easy at all, since for the design that we have previously made to be the same in the sublimated garment as in the computer and we have optimal results, it is necessary to carry out a careful and adequate execution of all the phases and steps to follow, otherwise the result may not meet the client's needs.
Therefore, we will have to adjust the final image of our graphic designer to the appropriate parameters so that the plotter interprets it correctly. Aspects as relevant as the size of the sheet, the crop marks, or the calibration of the colors, are just some of the many points to take into account in prepress, a graphic production process that is essential.
Print
With the plotter configured with the computer, the specialized sublimation ink cartridges loaded and the appropriate sublimation paper, we proceed to print the image. Once the printing has finished, we will have to let the result dry for a few minutes. In addition, we should do small tests to physically corroborate that the result obtained is what we were looking for. Otherwise, if we do a large sublimation production we could spoil large amounts of the defective material.
Heat and pressure process
Once the paper is ready, we prepare the necessary material to sublimate, which, in general, will be the product that we are going to sublimate, the printed image, the transfer plate, or the calendar (depending on the production scale). At this point, we will apply heat and pressure for the time and degrees stipulated in the file of each product. Once finished, we will remove the paper adhered to the product and let it cool.
What do I need to sublimate?
As I explained a little above, a company with 100 workers and several industrial buildings does not produce sublimation products in the same way as a small artisan in its workshop. We should distinguish, then, at least three types of products that will have different hardware and software needs. In any case, I will explain to you one by one and I will add you for which case it is necessary.
Professional computer and design software
Firstly, a designer or graphic designer should create the image to be sublimated in an editing program such as Adobe Illustrator, Adobe Photoshop, or Corel Draw, if you do not know this software, I recommend that you visit this link, which will surely help you understand it better and if not, you can always ask our team the questions you need or follow us on networks, where we periodically publish interesting information about the graphic arts sector. In addition, that image must be scaled to the exact extent that it will occupy on the surface of the product.
On the other hand, and although it sounds obvious, you need hardware, that is, initially and at least a computer or workstation that meets the following requirements. That is in case you are the one who designs, if not, you can skip this part and in that case, you will only need a computer with which to control the printer.
Adobe Illustrator, Photoshop, and Corel Draw requirements for Windows
In the event that you want to design with software in a Windows operating system, your computer must have a minimum processor equivalent to Intel i5 or Ryzen 5 (if you prefer AMD), with a RAM memory of at least 8 GB and a graphics card. dedicated of at least 4 GB that preferably is of NVIDIA, AMD, or Intel. Of course, you will also need space on the hard disk, which I recommend that it be SSD to optimize times.
Adobe Illustrator, Photoshop, and Corel Draw requirements for Mac
In the case of Apple computers, the processor should be multi-core Intel with 64-bit support. The operating system, meanwhile, should be macOS version 11.0 (Big Sur), macOS version 10.15 (Catalina), or macOS version 10.14 (Mojave). The RAM, as with Windows, should be 8 GB.
Calibrated Monitor
Many newcomers to the world of sublimation underestimate the importance of working on a professional monitor and that is one of the big mistakes our clients face at Digipress. For the final product to be the same on the screen as it is in your hands, it is necessary to invest in a good screen. Not only that, you will also need to calibrate it properly.
In this case, there are two options, either calibrate it yourself with one of X-Rite's products or hire a consulting service such as QColor, one of our latest low-cost creations so that any company or freelancer can access a professional quality control in color management (if you don't know this term either, take a look at this article ).
The Epson SureColor SC-F100 desktop A4 size sublimation printer implements original Epson sublimation inks in 140ml bottles, is ideal for producing promotional and personalized items such as mugs, keyrings, mobile phone cases, and all kinds of small-format merchandising, especially in businesses where space is an added value. In addition, it responds to the needs of textile producers who seek to create personalized and exclusive products such as caps, aprons, ribbons, and small-format cushions.
The Epson SureColor SC-F100 sublimation printer offers fast turnaround times and a low total cost of ownership (TCO) for small businesses and does not require a high level of knowledge to set up, use and maintain. 140 ml capacity ink bottles offer a low-cost alternative to cartridge-based inks.
The SC-F100 A4 printer is part of Epson's comprehensive and reliable offering of end-to-end printing solutions, which includes inks, drivers, and paper, all designed to perform flawlessly. In addition, the user can rest easy with the 1-year warranty or 6000 printed sheets, whichever comes first.
The compact 24-inch Epson SureColor SC-F500 dye-sublimation printer (allows you to print a 61cm width), with no compromise on quality or performance, is ideal for small promotional items and hard materials. Epson has fully engineered hardware, software, paper, and warranty, as well as inks, to comply with safety and environmental legislation, including OEKO-TEK and REACH certification. This printer can be used with A4 and A3 sheet paper as well as different roll widths of sublimation paper up to 61 cm wide.
The 4.3 ″ Touch Panel of the Epson SureColor SC-F500 printer makes it easy to access the necessary information and can be operated even with gloves. Ink can be replenished during printing, reducing downtime. This printer has been designed to improve efficiency, such as improved protection of the head against a collision with the paper and its design prevents the entry of dust even in dusty environments, helping to avoid printing errors and reducing cleaning cycles, which require time and consumables. It uses four inks: Cyan, Magenta, Yellow, and Black.
The Epson SureColor SC-F501 printer model has the same characteristics as the F500 but uses fluorescent inks especially indicated for accessories and sportswear. Therefore, the four inks that this machine uses are Black, Cyan, Fluorine Magenta, and Fluorine Yellow. Thus, all the jobs that we print with this machine, those colors that have yellow or magenta will be printed with fluorine ink.
The Epson SureColor F6300 is a 44-inch dye-sublimation printer (printing width 1118 cm), the ideal dye-sublimation equipment for creating high-quality promotional items and textiles.
The SureColor F6300 is a highly reliable roll paper digital dye-sublimation printer developed specifically for the production of high-quality printed textiles and promotional items. In order to ensure that everything works perfectly as a whole, it includes the Epson Edge Print RIP software so that printing all your designs is very easy: it includes many useful tools such as preview, hot holder, hot holder copy, clipping, nested paneling, paneling or rework, etc.
Read the 10 Best Sublimation Printer of 2022
User access and print head maintenance are very easy, reducing the need to call an engineer. Less downtime and easy maintenance increase your business efficiency. Improved specification of critical parts extends product life and increases return on investment.
The Epson SureColor SC-F7200 plotter is a highly reliable large format printer for roll-to-roll dye sublimation, developed specifically for the production of high-quality printed textiles. This plotter includes some of the most sought after features among large format printer users, such as highly reliable automatic take-up reel and precise rewinding of printed work, drying is fast thanks to the platen post-heater, a single operator can perform paper loading thanks to an automatic tensioner, solid roll paper shafts prevent the paper from shifting during printing.
Epson's PrecisionCore TFP print heads ensure high throughput and long production life, while variable-size ink droplets increase the quality of the results. The Epson UltraChrome DS ink pack, which works in conjunction with the print heads, helps achieve unbeatable results.
Epson's dye-sublimation printers boast a broader color gamut by incorporating additional fluorescent yellow and pink inks with the SC-F9400H, allowing you to take your designs to the next new level. markets such as sportswear and flexible signage. It also incorporates various functions to increase productivity, such as a higher ink volume and Epson Edge Print software, with which these printers guarantee maximum efficiency, as well as high quality.
The Epson plotter with Epson's dye-sublimation technology allows you to produce colorful textiles quickly and with great quality. 64-inch printer with pigment ink for sublimation, including fluorescent ink, designed primarily for fast printing of high volumes of clothing, textiles, and light signage, as well as other printed products.
Stay productive: The Epson Dye Sublimation printer, thanks to the two included heads, has a maximum speed of 108.6 m2 / h, and a heater is included in the final phase of the printing process that improves the drying capacity. Also, the advanced take-up system with highly accurate registration helps increase productivity. The updated configuration offers less tension and accurate registration, improving adoption and reducing the total cost of ownership (TCO) when using paper stocks. lower weight sublimation.
Best Sublimation Printers inks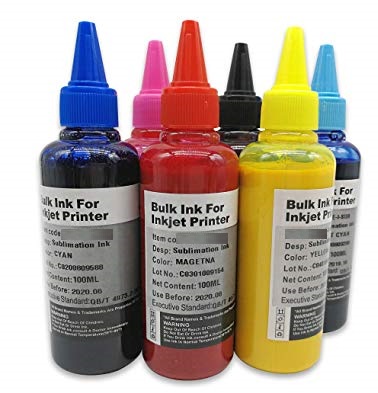 The sublimation inks are special inks that are printed on paper sublimation and then activated by heat in the iron transfer or a calendar. This activation process is sublimation (the inks go from solid to a gaseous state, penetrating the surface of the sublimable product). For this reason, it is essential to use only special inks for sublimation, and it is a guarantee to use only inks of the highest quality, manufactured by leading companies. The links included in this section meet these 2 requirements.
In addition, you must ensure the correct configuration of the color profiles. A color profile is a set of data that characterizes either a device, such as a projector, or a color space, such as sRGB. Most color profiles are in an ICC format, which is a small file with an.ICC or.ICM extension. Color profiles can be embedded in images to specify the spectrum of the data range. This ensures that the user sees the same colors on different devices.
Each device that processes color must have its own ICC profile and when this is achieved the system is said to have a color workflow from start to finish. With this workflow, you can be sure that the colors are not lost or modified.
Sublimation paper or transfer paper
The sublimation paper acts as a conveyor of the ink to the surface of the sublimable object (textile, wood, porcelain, aluminum, etc.) on which you are going to transfer the design, this is basically its function, but this process is carried out under certain temperature and pressure parameters and that is where the main differences lie between a true premium sublimation paper, a normal sublimation paper or one that is not special for sublimation like CAD or Bond paper.
The fast-drying coating of the best sublimation papers reduces process time. Long-length rolls allow small and medium-sized businesses to use sublimation transfer paper on both hard and soft materials. Wide rolls in A3 and A4 also allow for longer print runs as an alternative to sheet feeding.
Plancha transfer
The most significant aspects to evaluate the types of transfer plates are pressure, temperature, and time. They are, without a doubt, the differential aspects between a good or bad transfer. But how do I get to use these three variables accurately? Don't worry, today is not like a few years ago. The transfer plates to sublimate garments or articles were totally analog. To carry out a transfer, the experience of the professional was essential. Today, immersed in the digital age, any heat press has regulators.
Calandra
A Calandra is a machine that fulfills the function of passing a print on specialized paper for sublimation, to a certain fabric, it differs essentially from a transfer plate in that its way of working is from roll to roll, that is, a complete roll with The prints made on the plotter are loaded into the Calandra and transferred by sublimation to a roll of fabric.
What the sublimation calendar does is carry out the sublimation process itself. This is done through heat, causing the ink that is on the paper, through heat, to evaporate and go from solid to gaseous, generating the process called sublimation. In this way the ink printed on the paper passes directly to the fabric, so we have fabrics of different designs, which we can use in different models.
What can I sublimate from Sublimation Printing?
The answer is "almost everything you can imagine." Ceramic mugs and any other product of the same material such as plates or trays. Strong glass products for example beer mugs. Aluminum items such as thermal glasses. Fabrics whose composition is 100% polyester or at least 65%. Other products are made of fabrics or synthetic materials, such as T-shirts, caps, backpacks, purses, bags, cushions, pillowcases, mousepads, puzzles, key chains, metal or acrylic plates, and a myriad of materials.